Reaction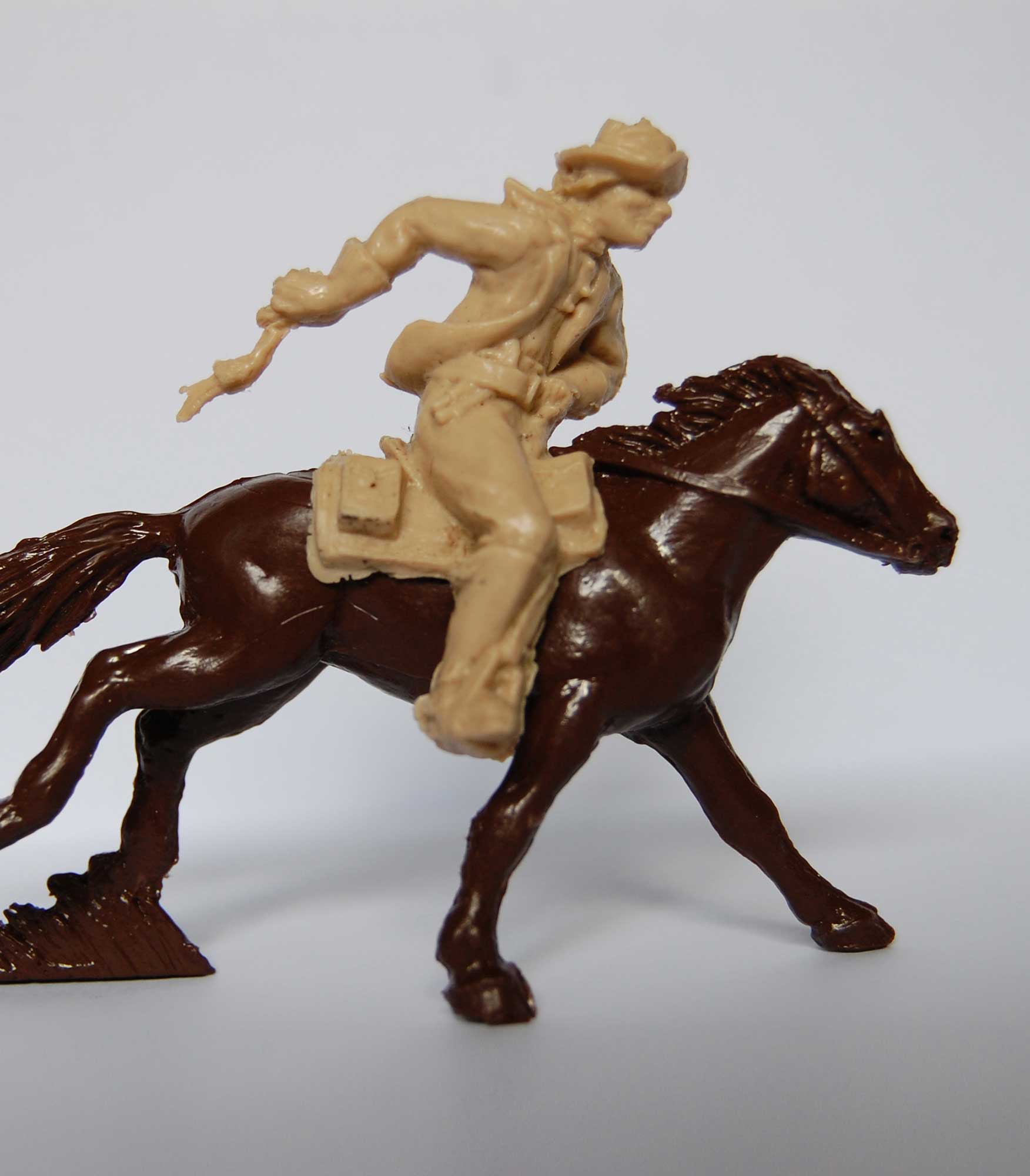 [He] is a real beaut! He's a Pony Express rider, and as such is, as far as I know, unique…
Period detail is spot on, a Replicants trademark…
But what is truly remarkable about [this figure] is the pose. Somehow Peter Cole has managed to capture the sense of urgency not just in the horse, but in the rider too – quite astonishing! Amazingly for a figure not in a more usual 'all action' pose like firing or fighting, I would put this in my All Time Top Ten figures.
Toy Soldier Collector
Together the pony and rider give the impression of flying across the prairie with the horseman's coat and neckerchief blowing in the wind…
The rider is superb. There is no flash and the mould lines are practically non-existent.
Toy Soldier and Model Figure

The figures are exquisitely done, with real action poses, sharply featured faces and excellent detail – not just amongst the best Peter Cole has done, but amongst the best plastic figures ever by anyone. They are real gems, paint up beautifully and look great on the deck of my Playmobil frigate. They will do for any country of course, not just RN.
The Skirmish Line
This is by far the best set of figures from Replicants so far. They really show what can be achieved in animation in plastic. The sailors are clearly storming an enemy ship, one racing across the deck with cutlass drawn; the other wielding a fearsome blunderbuss. A senior officer watches gravely, telescope behind his back, while a junior officer stabs with a dirk, his hat falling to the ground. A petty officer stands cutlass in one hand – clubbed pistol in the other. However, pride of place, in my opinion, goes to the Royal Marine firing at the enemy rigging – a superb piece. Replicants has really reached new heights with this set – metal has its charm, but when you see what a good sculptor can achieve with plastic, you have to admire the fluidity and dynamism of the poses.
Toy Soldier and Model Figure
Costumes and equipment display a high standard of authenticity; detail is impressively sharp; and the poses are full of life.
— The Minature Soldier Gazette