John Brown & Robert E. Lee

John Brown & Robert E. Lee
The Harper's Ferry raid of 1859 in effect kicked off the American Civil War (1861–65). The raid on the US arsenal at Harper's Ferry, Virginia, was masterminded and led by John Brown. He aimed to capture a weapons supply to distribute among southern slaves to start an uprising.
Brown's band numbered twenty-two men, half of which were freed slaves. They found themselves holed up with some hostages in an engine house, held at bay by local militia.
Eighty-six marines were sent under the command of Robert E. Lee to storm the building. A door was smashed down and in rushed the marines, Lieutenant Israel Greene at their head. A battle ensued in which Greene wounded Brown with his sword and most of Brown's men were either captured or killed.
Lee's chin in 1859 was clean-shaven. His appearance had changed considerably by the time of the Civil War, when he had the long white beard with which we are more familiar.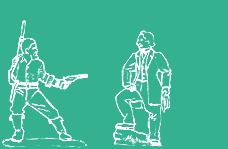 2 figures • Grey